The Practice Lab.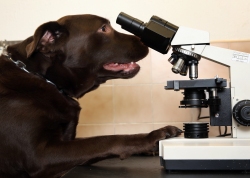 We use a variety of laboratory equipment and techniques in our day to day diagnostic work. Many of the tests are carried out here at the surgery giving results the same day. For example:
Did you know ...
Our Vettest Chemistry Analyzer gives us results for blood chemistry analysis within 8 minutes. This allows us to check the function of your pet's liver and kidneys, evaluate sick animals, screen senior pets, check for diabetes and assess high risk patients before anaesthetising. All this in just a couple of minutes more than it takes to boil an egg!
Microscopic examination allows us to carry out blood smears, cytology, urine sediment analysis and to examine ear swabs and skin scrapes.
Other tests carried out in the surgery include Feline Leukaemia and Feline Immunodeficiency tests, type testing for blood donors and Premate
tests.
Premate Tests
This is an ovulation test used to determine the optimum time for mating. The test detects a rise in plasma progesterone which coincides with the rise in LH indicating ovulation and the most likely days for a bitch to conceive. We usually start testing from day 10 but speak to one of our vets or nurses before booking to discuss variation on this.
We also use an external laboratory for some haematology, cytology, histology and allergy testing. Samples are collected from the clinic each night. However late in the day a sample is taken it will always reach the lab that night, results for blood test are usually ready for us by the time we open the following morning.