Pet Passports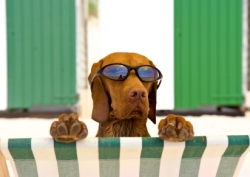 If you're thinking of taking your pet abroad it is important to check details carefully to ensure you fulfil all regulations for re-entry to the UK.
The Pet Passport Scheme has simplified the process of pet travel opening up the European Union and a number of non-EU countries.
For a list of countries covered by the scheme and travel to and from countries not included please contact Defra at:
defra.gov.uk/wildlife-pets/pets/travel/pets/
Passports
To travel under the Pet Scheme your pet will require a passport which is provided by an L.V.I (Local Veterinary Inspector). At this clinic Billy Moloney is an L.V.I. and will be able to provide this for you.
To obtain a passport your pet will need to be:
a) Fitted with a microchip.
b) Vaccinated against Rabies.
Rabies is a single vaccine given at least 21 clear days before travel. Booster vaccination, should you wish to continue to travel with your pet, is every two years.
It is important to remember that pet passports are designed to protect citizens of the UK from the threat of Rabies. It does not ensure that your pet is safe during travel to other countries. It is vital that you have a suitable parasite prevention plan to protect your pet whilst abroad.
A number of diseases are found throughout many European countries that we don't have in the UK. These are transmitted by Ticks and biting flies:
Babesiosis - transmitted by ticks, a small parasite that attacks red blood cells.
Ehrlichiosis - transmitted by ticks, causes fever, bleeding and severe eye disease.
Leishmaniasis - transmitted by sandflies. A severe disease that can affect many organs and often causes death (can also be caught by humans).
Heartworm - transmitted by mosquitos. Worms migrate to the heart causing symptoms many months later.
Our vets will advise you on the best parasite plan for your trip.